Nature's Advent - Monday 9th December 2019:
Have yourself a merry 'ele' Christmas!
Some elephants have arrived in London! If you're going to be there over Christmas and the new year, it's worth popping over to Marble Arch to see a new free exhibition, called 'The Orphans' - 21 life-size bronze elephants depicting some of the real-life orphans in the care of the David Sheldrick Wildlife Trust. Pioneers in the rescue, rehabilitation & release of orphaned baby elephants, they also actively work to conserve all wildlife and wilderness areas in Kenya.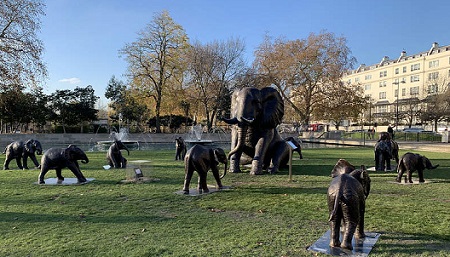 You also may like to consider giving a 'gift in kind' this Christmas, for example £11 which covers the cost of 1 x tin of formula milk for the orphaned elephants, through to more costly but still necessary items like drums of fuel for aerial surveillance, GPS systems, camera traps, clothing for the keepers, desks for school-children and more ... And you can adopt one of the orphaned elephants, rhinos or giraffes as a special gift - offering life and hope to an animal in need.