The Nature Bible is a personal wildlife/lifestyle journal celebrating the wonders and marvels of the world and some of the wild and inspiring things being done to embrace and protect it. It was born out of an original print offering, the concept of Wild magazine, fashioned by Editor and Conservationist Jules, back in 1995 when 'green' issues were far from main-stream and considered distinctly untrendy.
It was her mission to inspire and motivate others by making these issues appealing and 'sexy' in a positive, trendy and glossy lifestyle magazine format. She did this by celebrating all the 'wild' things that both celebrities and un-sung heroes were doing around the world to look after their planet and the species within it, together with intriguing fashion/beauty/travel/living/conservation news, all sourced first-hand through the course of her work, travelling for conservation charities and writing for lifestyle publications, wrapped up in an upbeat eco, ethical and sustainable format.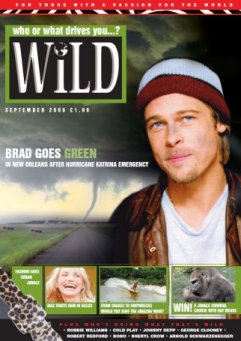 Wild was all about embracing life to the full, whether an involvement in dangerous pursuits or altruistically giving time and money to promote a cause. It was packed with real-life heroes and sportsters, existing celebrities (Cameron Diaz fighting a dam in Belize, Kevin Costner cleaning up with his oil spill cleaning invention, Jenson Button racing 130mph on rotting vegetables, at 'eco'-home with Robert Redford) and the un-sung heroes/ the new celebrity - ex soldiers working undercover to fight for Africa's wildlife, the fearless man hitching rides on fire-fighting helicopters to rescue and rehabilitate bears and tigers in Siberian Russia, and Guyana's 'Otter woman' wading amongst the chocolate brown Rupununi River teaching her orphaned Giant Otters to swim and catch Piranhas before returning them to the wild.
It featured the latest technology and the oldest methodology; a rock worn with eons of time, to rock stars giving behind the scenes, an ancient tree being supported by other species to some Baka pygmies protecting their rainforest home by making music. It filled its readers with the wonders of the world around them. An uplifting magazine that entertained and inspired!
Never too soon. Although advertisers were already aiming to be morally, trendily, ethically, spiritually, physically, positively, absolutely, reliably green and it was a struggle for companies to find a positive, stylish, focused outlet for their advertising, the media were slow to catch up. In the years before social media and blogging it needed the backing of a publisher for a major launch.
Twelve years later in 2007, the then CEO of Saatchi & Saatchi, Simon Francis gave it more than a ringing endorsement " My companies clients are increasingly tasking us to connect with consumers about sustainable, green, CSR and other charitable campaigns, but we lack appropriate environments for our ideas...Jules has focused this energy into a dynamic editorial package linking inspirational celebrity with down to earth things to do. Her magazine offers the perfect environment for these advertisers."
Despite interest from some of the top publishing houses in London and from the BBC in making a series about one of its key strands, still no-one thought 'it was time' to invest. Others took some of the article ideas and re-packaged them as their own. In 2010 the media visionary and publisher of Hello! in Spain commissioned Jules to produce a smaller version of her magazine as a supplement to the UK edition to coincide with World Animal Day, but unfortunately he unexpectedly passed away and immediately after that the supplement was cancelled.
'I can see no staircase to heaven, lest it be through the earth's loveliness.'
Michaelangelo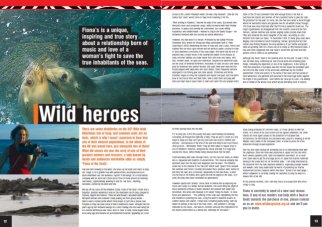 Three years later, in 2013, Gus Speth (ex Natural Resources Defence Council and Dean of Yale School of Forestry and Environmental Studies) claimed that the top global environmental problems weren't biodiversity loss, ecosystem collapse and climate change "but selfishness, greed and apathy", identifying the need for "a spiritual and cultural transformation" whilst admitting "we scientists don't know how to do that."
In 2015 the Pope through the publication of his encyclical, Laudato Si (Care of our common home) and accompanying press conference, brought the idea into the mainstream, confirming "the ecological crisis is essentially a spiritual problem". In 2016, Jules applied for media accreditation to attend the IUCN conference on Biodiversity Loss themed 'Planet at the Crossroads' which, for the first time included leaders from faith and spiritual communities to discuss the link between spirituality and conservation. And in 2017, having visited Zambia, a landlocked country at the heart of the African illegal wildlife trade, she put together a project proposal aimed at driving social and behavioural change to protect wildlife at risk through the country's biggest and most influential element of civil society: Faith leaders, their congregations and the Christians that make up 95% of the population.
The Media Landscape has changed
We are now thankfully riding the crest of a green wave which is still gaining momentum and set amongst this new spiritual and cultural shift we live in a world where the amount of news covered by social media, blogging and web publishing can sometimes feel overwhelming.
The Nature Bible aims to be a calm but fortifying little port in the storm. It is only a humble on-line offering but one where conservation with a conscience is key. It aims to encourage both those with faith and those with none, to be similarly awed, enlightened, uplifted, inspired into positive action and brought together by a shared love of the wonders of our fellow creatures and Mother Nature.