Orphaned elephants pack their trunks and arrive at Marble Arch...
Twenty-one life sized bronze elephants, each modeled on a real orphan currently in the care of the David Sheldrick Wildlife Trust, Kenya, have arrived in London and will be on display from 4th December 2019 on the lawns at Marble Arch for one year.
'The Orphans', created by artists Gillie and Marc, who have created some of the world's most innovative public art spreading conservation messages around the world, has been designed to raise funds and awareness - bringing the plight faced by elephants to the forefront of visitors minds.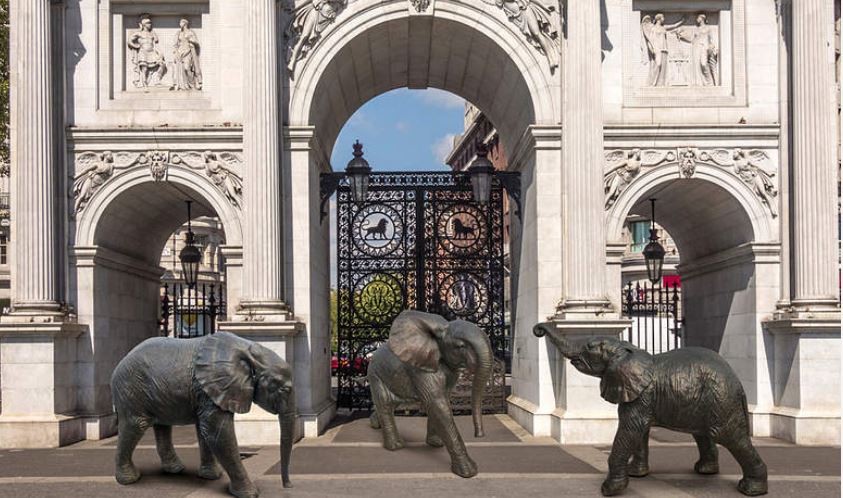 The David Sheldrick Wildlife Trust was established in 1977, by Dr Dame Daphne Sheldrick in memory of her late husband David, who was the resident warden of Tsavo East National park. Rescuing and rehabilitating a vast range of animals over the years, Daphne was the first person to perfect a milk mix formula for orphaned elephants before their return to the wild. But she also understood what love and comfort these sensitive, traumatised, amazing animals need and the bonds the orphans build with each other as well as their keepers and even now, years later, many of those released elephants come back to show off their new babies. Many of the orphans are victims of poaching, others from indiscriminate snares. The Trust operate de-snaring teams, aerial surveillance, a canine unit, community outreach and projects providing water for wildlife. Sadly Daphne passed away last year but her daughter, Angela, who has headed up the Trust since 2001 carries on her amazing work and they continue to successfully rear and release orphaned elephants back to the wild whilst pioneering new ways of protection and provision.
The exhibition at Marble Arch is Free, but you can also buy prints by Gillie and Marc to raise funds for their incredible work. For more information visit The David Sheldrick Wildlife Trust.