Bert, His Dog, Our God
Latest News: If you were looking forward to Gary Bunt's Cathedral tour, described below, don't despair! Gary Bunt's fifty-one paintings began their National Cathedral tour in Liverpool in February. The works then travelled to Ely and were installed just before the Cathedral was closed. As you can't currently get to see the exhibition, they have brought it to you. Please click on the link below to see a twenty five minute film of his wonderful art:-
**********************************************************************************************************
Artist inspires with new Cathedral Tour
Robert Louis Stevenson once said, "I never weary of great churches. It is my favourite kind of mountain scenery. Mankind was never so happily inspired as when it made a cathedral."
And I don't believe that the artist Gary Bunt is as happy as when he's sitting in a house of God, whether it be a cathedral, his own local church or the chapel at home that he daily frequents, although he is also very fond of spending time in and around the lofty reaches of the South Downs. A Cathedral Tour is most definitely fitting for a new exhibition of his paintings which regularly feature the sea, hills, fields and gardens as vibrant backdrops to his signature figurative and narrative works, but which also now have a new divine theme.
As one of the UK's most popular contemporary artists, many will already be familiar with his work, which regularly feature a man called Bert and his dog - who acts as the commentator and has many witty and wonderful observations on life that make you chuckle and ponder. You may have come across some of Gary Bunt's humorous paintings, depicted on greeting cards in the past, or seen his work at the Portland Gallery in London - his paintings are also held in collections in the UK, Europe, USA, Hong Kong and Australia.
Gary's new exhibition of these wonderful narratives on life, depicted in stunning natural landscapes, changes direction, as it sees Bert and his dog telling the story of the life of Christ - from the Nativity to the Ascension and Gary sees this tour as a fantastic opportunity for him to share his personal faith in God.
"I find this all quite humbling really as this is God's work," says Gary, in a short film which has been made available to coincide with the exhibition. "It's the Son of God's story and it's merely my interpretation in paint ...I'm not trying to convert anybody, just trying to share my own faith in Jesus Christ. For anything God lets happen, there's nothing pointless in my eyes."
The collection of 51 paintings with accompanying poems, will go on view at 5 Cathedrals across the UK this year, starting off on 15th February 2020 in Liverpool, followed by Ely (March/April), Winchester (May/June) Ripon (July/August) and finally London in September. Visitors will be able to download an app of the exhibition, together with the afore-mentioned film and there is a hardback book to accompany this collection too. Click here for more information. For a taster please see below:-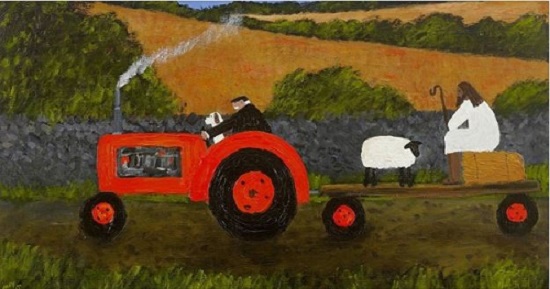 The Lost Sheep (Luke 15 v 3:7)
We went out on the tractor, it's been a very busy day,
Down the lane and back again it's been a long, long way.
Now we are heading back to the farm, we should be there by six o'clock
And with us is the sheep we found, coming home to our good Lords flock.
And a couple more - Jesus Walks On Water and The Empty Tomb:-