The Tide is Turning
LANDMARK DECISION GIVES THE GREEN LIGHT FOR SUSSEX SEAWEED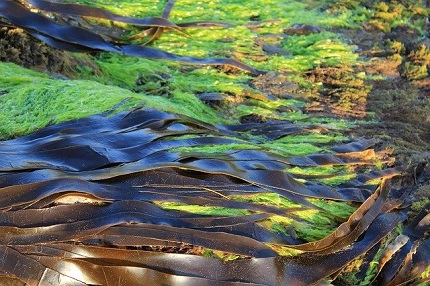 Thanks to all those who supported 2019's 'Help Our Kelp' campaign, to restore the health of Kelp forests around the Sussex coast. A near-shore trawling bye-law has now been signed off by the Environment Secretary, meaning that trawling with bottom-towed fishing gear in the designated area between Chichester and Brighton is illegal! In January 2020 thenaturebible reported that the bye-law had been agreed by the Sussex Inshore Fisheries and Conservation Authority but it's taken until now (March 2021) to be enshrined in law.
Whilst 'Help Our Kelp', a partnership between Sussex Wildlife Trust, Blue Marine Foundation, Big Wave Productions and Marine Conservation Society, intends to leave the 117 square miles of coastal seabed to regenerate the kelp naturally, they have also been bringing together other key organisations to help support the restoration project long-term, with monitoring, researching and planning for the future.
Extensive, dense kelp beds, the homes for seahorses and many other sea creatures, used to stretch 25 miles (40km) along the West Sussex coast between Shoreham-by-Sea and Selsey Bill and at least 2.5 miles (4km) out to sea but since the 1990s they have been destroyed by a combination of factors thought to include trawling and the dumping of sediment by dredging boats.
Sir David Attenborough who launched the initial campaign said, "This is a landmark decision for the management of the UK's coastal waters. Sussex's remarkable kelp forests will now have a chance to regenerate and provide a home for hundreds of species, creating an oasis of life off the coast, enhancing fisheries and sequestering carbon in our fight against climate change. This large-scale protection of over 300 kilometres of seabed is a vital win in the fight against biodiversity and climate crises, ahead of COP26 later this year."
Meanwhile, Tim Loughton MP for East Worthing & Shoreham spoke of his delight in the exciting plans to bring back the historic kelp beds and not only for providing habitats and carbon capture but also their role in bolstering sea defences.
You can still continue to support 'Help Our Kelp' in a number of ways and if you're a diver you can participate in Sussex Seasearch - a 'hands-on' project co-ordinated by Sussex Wildlife Trust to help collect vital data on kelp in Sussex.
You can watch the latest update below:-