Towering Future
SWEDEN LAUNCHES NEW 'WOOD' WIND TURBINE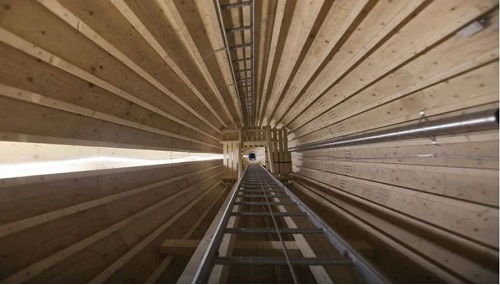 A 30 metre EU-funded wind tower - built out of wood "stronger than steel" has been constructed in Sweden, marking a major break-through in the development of clean, renewable energy and the production of taller, but lower carbon, wind turbines.
Modvion, the company behind the project, says they can be constructed at a 'significantly' lower cost than steel which will in turn will lower the production costs of wind power-generated electricity. The lower weight of the wood together with a modular design also make it possible to build taller towers, sections of which can also be transported on public roads and the carbon dioxide absorbed by trees as they grow, is stored in the wood of the towers, meaning that the wind turbines are climate-neutral from the beginning of their operation.
Johan Ahlen, CEO of Moelven Toreboda, who partnered with Modvion in the manufacture of the tower said, "Wood has fantastic properties and we need to build much more in wood if we are to meet the climate goals. For us, it is hugely inspiring to participate in this pilot project where we have been able to use renewable wood in a design for the production of renewable energy."
Wind power is expected to become the EU's largest power source within the next 7-10 years and the wooden wind turbine, developed just outside Gothenburg, is currently being used for research with the goal of constructing the first wooden towers for commercial use by 2022.