Riding the crest of a wave ...
Riding the crest of a wave: Scotland leads the way with tidal invention
According to a new report from Carbon Brief out today (14th October 2019), during the three months of July, August and September, the UK's windfarms, solar panels, biomass and hydro plants have generated more electricity than power stations fired by fossil fuels. This is so encouraging as it's the first time this happened in the history of the UK's energy sector! It's also been announced today that the Eden Project has secured £16.8 million in new funding to develop a geothermal power plant at its site. This will work by pumping cold water underground, where it will pick up heat from the surrounding rock before being pumped back to the surface at temperature of around 180°C. The hot water will then run through a turbine to make electricity.
Tidal power, is also on the turn. I learnt about this project from Dr Howie Firth who was speaking at a Climate Emergency Summit I attended a week ago. At the end of August the Scottish Government awarded Orbital Marine Power £3.4million to help develop its 'O2' tidal turbine, which is claimed will be the world's most powerful floating tidal energy turbine and will be capable of powering more than 1,700 homes a year.The award follows the success of the firm's previous SR2000 model, a 2MW turbine which generated more than 3GWh of power in its first year of testing at the European Marine Energy centre (EMEC) in Orkney.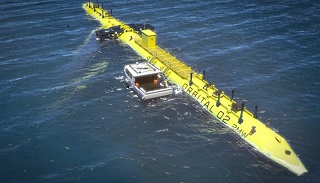 EMEC also claimed a world first in September 2017 by generating hydrogen gas from tidal energy from the SR2000 turbine being tested, which fed power into an electrolyser situated next to EMEC's onshore substation. The electrolyser used the electricity to split water into is component parts of hydrogen and oxygen and Orkney have since been looking into the development of a hydrogen economy, with the intention of replacing polluting fuels in their cars, vans and ferries.
The difference between this proto type system and those that have gone before is that older models were fixed to the seabed. The SR2000 (on which the O2 model will be based) looks more like a boat as it floats on the surface with rotors hanging from it which is able to harness the power of the tides and because of its accessibility it also makes it easier and cheaper to maintain. Watch this space to follow further developments and meanwhile watch this film to see this exciting invention in more detail!