Hatching a plan
First White Stork chicks in 600 years launch long-term UK project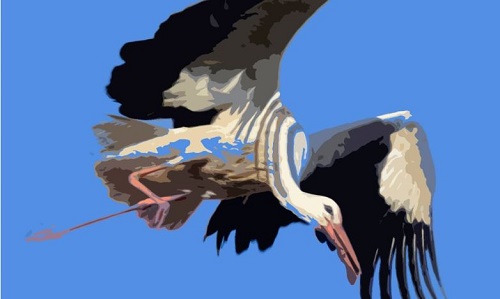 The White Stork Project have today (21st May 2020) shared their first footage of some new White Stork chicks on the Knepp Castle Estate, West Sussex . The footage shows three chicks, in one nest, high up atop an ancient oak, thought to have been the first hatched in Britain in nearly 600 years and there's also another nest of three chicks in an oak nearby. There is a further nest which doesn't currently have any eggs although the pair have been seen mating.
Led by a partnership of private landowners and nature conservation organisations, across East and West Sussex and Surrey (including the Knepp Castle Estate, Wadhurst Park, Wintershall, Cotswold Wildlife Park, Roy Dennis Wildlife Foundation, Durrell Wildlife Conservation Trust and Zoo Warszawa), the White Stork Project plans to restore a population of at least 50 breeding pairs in southern England over the next ten years.
Evidence suggests that Storks used to be widespread in Britain and, being migratory, there have been many sightings in the UK over recent years, but conservationists realised that the species would need a helping hand to re-establish a breeding population here. In Europe, where they are considered a sign of good luck, people erect cartwheels on their roofs to attract them and they often build their large nests on roofs and church towers.
Storks fly far and wide to feed and the project in the UK hopes that the birds reintroduction will provide inspiration for restoring wetlands and river catchments such as the nearby Arun and the Adur and that people in local communities will regard this bird as a charismatic emblem for the regeneration of nature. However White Storks have long-been associated with the county of Sussex, the Saxon name for the nearby village of Storrington was originally "Estorchestone", meaning "the village of the storks". A pair of white storks still feature on the village emblem. Wherever you live in the UK you are encouraged to keep your eyes peeled and report your sightings of any White Storks that you see here.