If you go down in the woods today ...
LONDON FASHION WEEK KICKS OFF WITH BURBERRY'S CARBON NEUTRAL SHOW, SET IN NATURE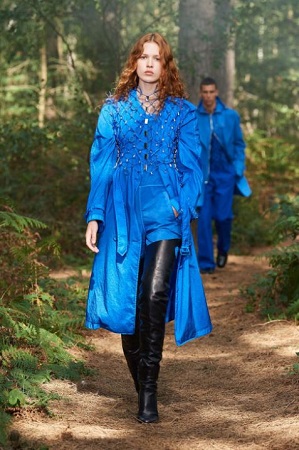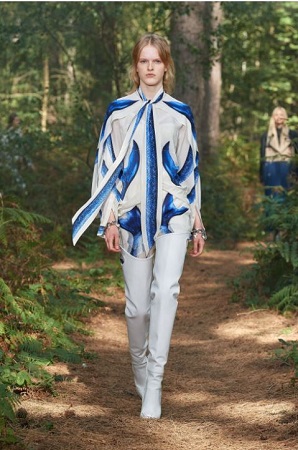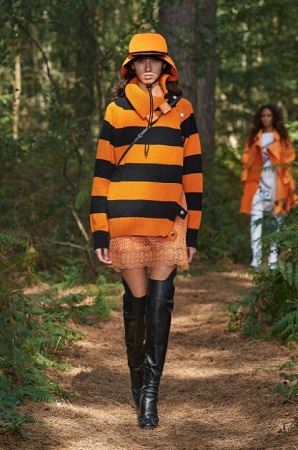 Aiming to recognise the importance of the natural world and those who live in it, Riccardo Tiscali opened London Fashion Week on Thursday 17th September 2020 with a carbon neutral show for Burberry, streamed virtually, in which models swapped the catwalk for sun drenched pine woods and burnished bracken.
The show, titled 'In Bloom' combined live music and performance as models strutted a range of earthy and marine outfits, choreographed in moves to mimick the ebb and flow of the ocean, with blue as the pervading colour, a splash of mariners orange and fabrics and shapes with a nautical nod.
"It began with a thought of British summertime; embracing the elements with a trench coat on the beach mixing with the sand and the water," Tisci said, in a press release. "I envisioned the people of this space, like the lighthouse keeper, and a love affair between a mermaid and a shark, set against the ocean, then brought to land."
Other motifs including circles were said to be"hugely symbolic," as Tisci "was thinking about regeneration, about dynamic youth, about nature constantly recreating itself, always growing and evolving, always alive."
You can see the full collection and watch the show by visiting their site HERE
Since then, on Monday 21st September, Erdem premiered their Spring Summer 2021 collection, In the Shadow of a Volcano, by taking viewers into Epping Forest. This time the catwalk was an avenue of oaks and hornbeans, through which sunlight streamed down on Victorian inspired smocks, gowns and lightweight billowing skirts - to the dramatic music of a string quartet.
The collection was inspired by a historical romantic novel 'The Volcano Lover', by the avant-garde critic Susan Sontag which was set in the royal court of 18th century Naples, where the love triangle unfolds between Emma Hamilton, her husband the British consul Sir William Hamilton, and Horatio Nelson. You can catch some of the drama by watching their show below:-