Paws for Claws
SUPPORT DOGS SAVING CATS BY 'GOING WALKIES' IN NOVEMBER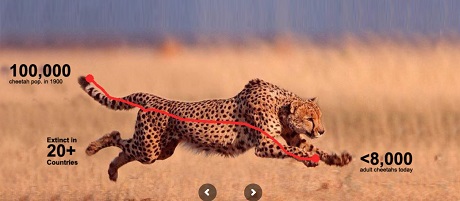 With just 7,000 cheetahs left in the wild, this iconic species is at risk of extinction due to threats including habitat loss and human-wildlife conflict. This November the Cheetah Conservation Foundation (CCF) in Namibia are raising funds for their Livestock Guarding Dogs programme by challenging dogs and their owners worldwide to 'Go Walkies', and collectively clock up 7000 km (1km for each cheetah left in the wild today).
One of CCF's most successful initiatives, Anatolian Shepherd and Kangol dogs that have safeguarded livestock from wolves and bears in Turkey for millennia, are bred in Namibia and then given to farmers in areas of human-wildlife conflict to help protect their own animals. Looked upon as predators and threats to the livelihoods during the 1980s, livestock and game farmers halved the Namibian cheetah population, indiscriminately removing nearly 10,000 cheetahs.

CCF, through its Livestock Guarding Dog program have placed over 650 puppies with farmers since 1994, when they learn to bond with the herd and use their imposing presence and loud bark to scare away predators, frightening the cheetahs off and avoiding the need for farmers to trap or shoot them. Farmers adopt CCF dogs and participate in education on how to train the dog whilst CCF does on site follow up visits to ensure the dogs have proper training and medical care, and are settling into their guardian role. Farmers have enthusiastically embraced the programme, which has so far proven to reduce livestock loss to predators by around 90%. There are currently around 200 of these dogs on farms, still under the care of CCF for food, vaccinations and medications (with waiting lists for more dogs) - but they have so far proven to reduce livestock losses to predators by up to 90%.
CCF is currently managing the care of almost 200 breeding and active working dogs and each one needs our support. The fundraising target, location and pace can be set by all 'Go walkies' participants and if you haven't got a dog you can still get involved. For more information and to take part click HERE.