Nature's Advent - Tuesday 17th December 2019:
When the red, red robin comes bob, bob, bobbin' along ...
Legend has it that when Mary was giving birth, a robin used its wings to fan the flames of a fire to warm the stable and an ember flew up and made his breast glow. So she declared that he and his descendants would always have a red heart to show his kindness.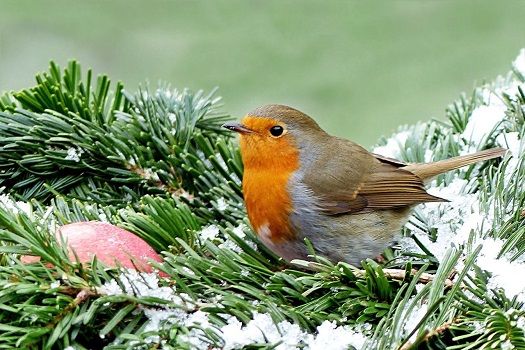 Today we could think about giving our Christmas Robins, and all his feathered friends, a feast to remember and the extra nourishment they need at this time of year by making a bird cafe. It may be difficult for them to find natural foods (such as berries, insects, seeds, worms and fruit) during this cold season so any extra food we can put out will help - such as unsalted peanuts and table scraps - cheese and fruits such as apples and pears. We should ensure that they have a leafy shelter, a suitable place to nest and perch, a source of clean drinking/bathing water, some well stocked feeders (for tits and finches) and very vitally a bird table which not only robins but also thrushes and blackbirds can feed from. Here are some Christmas feast menu ideas:-
1) Ball-balls: Mix one part vegetable suet or lard to two parts wild bird seed mix, transfer to a saucepan and gently heat, stirring until the fat melts. Using an ice cream scoop, mould into balls. Place on a tray in the freezer to set firm and once solid put on the bird table for the robin and in a fat-ball feeder for the other birds.
2) Festive fir feeders: tie a length of ribbon or twine around the top of some large pine cones. Roll them in the melted fat, then roll them in the seeds. Place in the fridge to set before hanging the pine cones from a tree or placing on the bird tables
3) Crackers: Melt a cup of suet or lard and add an equal amount of peanut butter until thoroughly melted. Mix in a cup of oats, a cup of sunflower seeds (with the option of additional unsalted nuts and unsweetened dried fruit) and two cups of cornmeal. Cool and place in old cardboard loo roll tubes as moulds. Place in the freezer to cool and store before removing the cardboard and laying out on the bird table.