Like water off a Duck's back
CREATE YOUR OWN POND WITH FROGLIFE'S NEW POND APP
If you're lucky enough to have a garden whilst currently on lock-down why not do some physical activity with the family to create something lasting you can enjoy whilst helping wildlife at the same time? UK National wildlife charity, Froglife, has launched a novel interactive app using augmented reality technology called the 'Wildlife Pond Visualiser', which allows users to visualise a pond in their garden and be inspired with tips of how best to create it.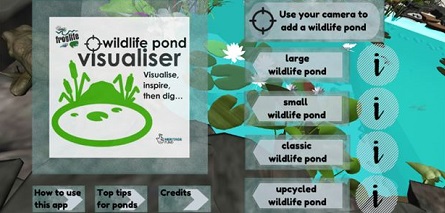 Designed and fronted by Froglife Patron, presenter, zoologist and author Jules Howard, the FREE app not only enables viewers to trial a range of designs to see how a pond would look before any digging begins, but you can also select a number of different types and sizes which can help our frogs, toads and newts who suffer from loss of habitat due to development and habitat fragmentation.
The Wildlife Pond Visualiser is part of Froglife's 'Come Forth for Wildlife' project working across the Forth Valley region in Scotland, and funded by the National Lottery Heritage Fund, but it's also accessible across the UK to help inspire many of whom are stuck at home isolating!
For those without an Android device they can visit the Froglife website to access the Wildlife Pond Ideas Zone section of the app. All pond creators are also encouraged to send photos of the ponds they create to Froglife info@froglife.org to share with others and for inclusion in their online Wildlife Pond Gallery.