Counting Cowslips
HELP CHECK THE HEALTH OF THE UK'S WILDFLOWER MEADOWS THIS SPRING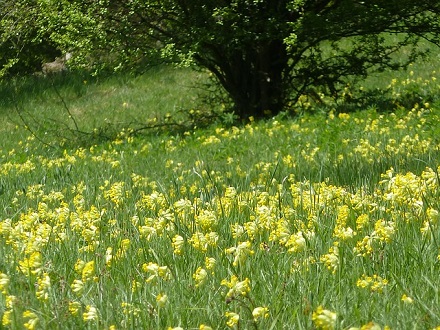 Nature charity, Plantlife, have launched a UK-wide cowslip study for this April and May, as part of a European citizen science survey, which started in Estonia, to help monitor the health of threatened meadows.
In some parts of the country, such as Lambley in Nottinghamshire, the first Sunday in May is known as Cowslip Sunday. Also known as Herb Peter, Peggle, Key Flower, Key of Heaven, Fairy Cups, Petty Mulleins, Crewel, Buckles, Palsywort, Plumrocks, and Our Lady's Keys, various names refer to their structure, and depending on your faith, they may have belonged to St. Peter, the Virgin Mary or the Norse Goddess Freya. The flowers are also said to have many valuable curative properties - as a sedative, antispasmodic, strengthening nerves and brain, relieving restlessness and insomnia, and easing rheumatism. And you can also make cowslips into wine.
They used to be as prolific as buttercups, but suffered massive declines between 1930 and 1980 as ancient meadows and grasslands were ploughed up for crops or converted to intensively managed pasture and silage fields. According to Plantlife, traditional meadows and grassland now cover just 1% of the UK's land area, and many are fragmented and neglected.
So this spring, all wild-flower enthusiasts and nature lovers are being encouraged to find a patch of cowslips and count 100 different plants spread across they area they surveying. You'll need to look at the centre of the flowers and record which of types of cowslip they are, to judge the ratio of the two which will then help experts understand more about the meadows in which they're found. In healthy fields of cowslips there should be a 50:50 ratio which promotes cross-pollination between unrelated plants, keeping populations healthy.

The "S-morph" or "thrum" has male parts of the flower visible and the "L-morph" or "pin" has only the top of the female part visible.
To find out more about the survey and how to identify the two different types you can visit their website here.